We launched our first group tours to Afghanistan in early 2018 and it has quickly become one of our favourite destinations. With one departure every month during the Buzkashi season, you have a unique opportunity to witness the epic national Afghan sport which takes places typically every Friday between November and March. Our tour lasts 5 days and is centred around the 4th largest City of Afghanistan, Mazar-e-sharif, home of the Blue Mosque. Our tour will visit historic places around the region as well as enjoying daily life in the souks, tchaïkanas (tea house) squares and parks. We also run occasional tours outside of Buzkashi season.
---
Please note that some sections of these tours travel to areas where the British FCO advises against all travel to.
We research the security of our destinations highly and safety is a priority for us, however, we advise you to do your own research as well to ensure you are comfortable with your trip.
Please note these travel warnings may also affect travel insurance for these regions; please contact us for advice on this.
We run tours monthly from December to March to coincide with the Buzkashi season and occasional tours at other times of year.
Our tour keeps to the Mazar region only. We regularly monitor security and this region is currently the only area where we are confident about safety.
There will be no Lupine tour leader on this trip but you will be accompanied at all times by 2 of our very trusted Afghan contacts; a driver and guide. Groups are limited to 6 maximum.
Our itinerary can be seen below. For security reasons we do not display tour dates. Please email us for more information.
---
| | | | |
| --- | --- | --- | --- |
| TOUR DATES | TOUR NAME | Total Days | PRICE |
| | | | | | | | | | | |
| --- | --- | --- | --- | --- | --- | --- | --- | --- | --- | --- |
| Afghanistan | tour-open | | | AFGHANISTAN HIGHLIGHTS TOUR | 4 | 895 | 250 | static | 6 | |
Our current 2019 group tours can be seen below. They are all guaranteed departures.
---
| | | | |
| --- | --- | --- | --- |
| TOUR DATES | TOUR NAME | Total Days | PRICE |
Our current 2019 group tours can be seen below. They are all guaranteed departures.
---
| | | | |
| --- | --- | --- | --- |
| TOUR DATES | TOUR NAME | Total Days | PRICE |
You can find below an example of the standard itinerary that can be booked as a private tour any time of year. For details of longer tours please email us.
---
Day 1 -
Arrival into Mazar
---
Arrival on the morning flight at 07:00 from Istanbul and transfer to the hotel for a briefing. In the afternoon we will take a tour of the city, visiting the bazaars and the Blue Mosque of Hazrati Ali; one of the most beautiful examples of Islamic architecture in the whole of Central Asia.
---
Day 2 - The throne of Rustam

---
Today we will visit Takht-i-Rustam ("throne of Rustam"); named after Rustam, a king in Persian mythology. It is a hilltop settlement and well-known archaeological site. We'll also visit the adjacent Buddhist caves and hilltop stupas north of the Hindu Kush passes. At this location caves were hewn out of the rock and inhabited by Buddhists. The Buddhist stupa here is in the form of a mound. It represents the earliest link to the evolution of Buddhist architecture in Afghanistan.
---
Day 3 -
Balkh and Buzkashi
---
Today we will visit Balkh; an ancient city and centre of Buddhism, Sufism and Zoroastrianism in what is now Northern Afghanistan. While in Balkh, we visit the Haji Piyada Mosque (the walking pilgrim) and the Tomb of Rabia Balkhi, a semi-legendary figure of Persian literature. She was possibly the first female poet in the history of New Persian poetry. Later we explore the Khoja Parsa Mosque and Bala Hisar. For tours between December and March, in the afternoon we will attend a Buzkhashi game. For tours at other times of year, we will take a further tour of Mazar.
---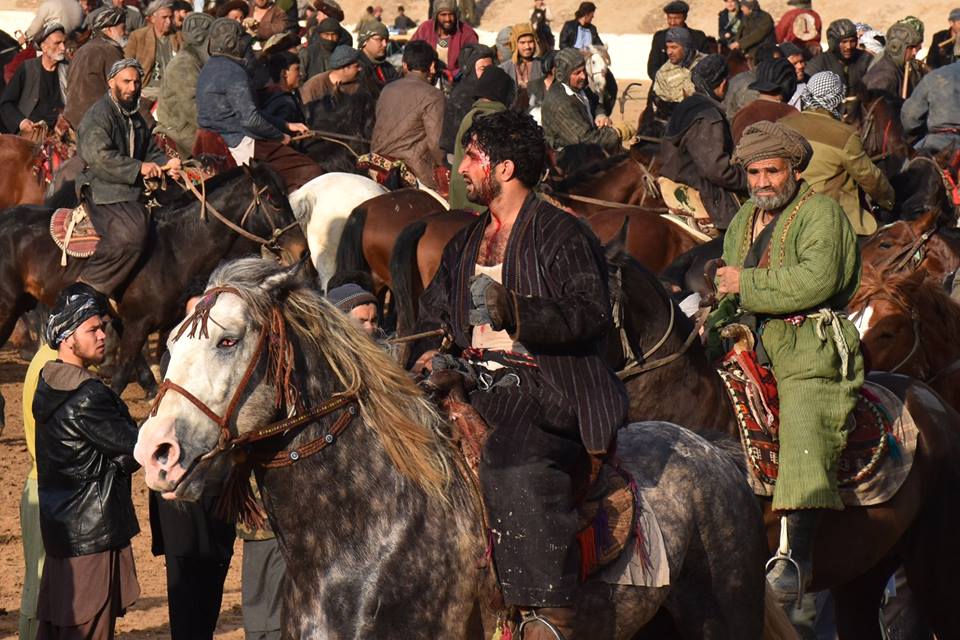 ---
Today we will travel West to Aqcha to visit the Turkmen bazar and the surrounding ancient buildings.
---
---
Transfer to the airport for our flight back home through Istanbul.
---
---
- 3 star hotel accommodation in Mazar
- All meals
- tours, entry fees and English speaking guides
- All ground transport
---
---
- International airfare
- Personal insurance
- Single supplement (£120- we can allocate another sole traveller to share with if required, subject to availability)
---