Socotra is quickly becoming the must visit destination of 2019. Off limits for several years, the Yemeni island has recently opened up for tourism.
The tours start and end in Cairo, Egypt. The deposit for this tour is $1,000. The tour does not include the return flights from Cairo to Socotra which are approximately $1,280. Our local partners in Socotra will arrange these and they can then be paid on arrival in cash at the start of the tour.
---
Please note that some sections of these tours travel to areas where the British FCO advises against all travel to.
We research the security of our destinations highly and safety is a priority for us, however, we advise ytou to do your own research too to ensure you are comfortable with your trip.
Please note these travel warnings may also affect travel insurance for these regions, please contact us for advice on this.
Our first Socotra group trip will run in October 2019.
We have two tours currently scheduled for early 2020 but plan to add 2 more for later in the year.
These tours are in high demand and fill up quickly so we advise early booking.
Our current upcoming group tours can be seen below. They are all guaranteed departures.
---
| | | | |
| --- | --- | --- | --- |
| TOUR DATES | TOUR NAME | Total Days | PRICE |
| | | | | | | | | | | |
| --- | --- | --- | --- | --- | --- | --- | --- | --- | --- | --- |
| Socotra | tour-closed | 2019-10-02 | 2019-10-09 | Socotra Highlights Tour | 7 | 1950 | 1000 | static | 0 | October |
Our current 2020 group tours can be seen below. They are all guaranteed departures.
---
| | | | |
| --- | --- | --- | --- |
| TOUR DATES | TOUR NAME | Total Days | PRICE |
| | | | | | | | | | | |
| --- | --- | --- | --- | --- | --- | --- | --- | --- | --- | --- |
| Socotra | tour-open | 2020-02-05 | 2020-02-12 | Socotra Highlights Tour | 7 | 1950 | 1000 | static | 0 | February |
| Socotra | tour-open | 2020-03-11 | 2020-03-18 | Socotra Highlights Tour | 7 | 1950 | 1000 | static | 0 | March |
| Socotra | tour-open | 2020-09-23 | 2020-09-30 | Socotra Highlights Tour | 7 | 1950 | 1000 | static | 6 | September |
Day 1 -
Flight to Socotra
---
Our group will meet in Cairo Airport ready for the 02:00 flight to Socotra via Seiyun in mainland Yemen. We'll arrive late morning, check into our hotel and have lunch, before having some time to rest. In the late afternoon we will head out to Delisha Beach. Overnight back in Hadibou.
---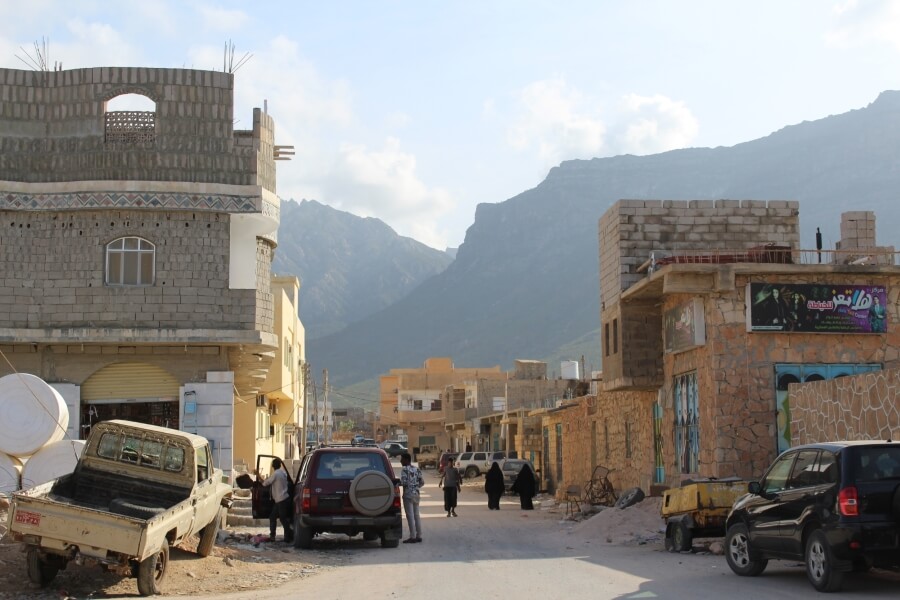 Day 2 -
Ayhaft Canyon National Park
---
After breakfast we will head to Ayhaft Canyon National Park. In the canyon we will visit large freshwater pools where you can swim and relax. All around you can see a huge variety of endemic plants such as dessert rose, tamarind trees and cucumber trees; plus a wide variety of birds such as Socotra sparrows, Socotra sunbirds and both Socotri and Somali starlings. Dinner and overnight at Dihamari campsite.
---
---
After breakfast we will have the chance to explore a snorkeling site in Dihammri. You will have the option to swim, snorkel and dive in the marine protected area; home to one of the richest coral reefs on the archipelago. Dihammri is blessed with more than 200 fish species and 4 of the 5 coral species that are native to the island. This shallow reef will allow even the most inexperienced snorkeler to enjoy its beauty. There are many marine creatures to be seen whilst swimming and snorkeling include; parrotfish, moray eel, rays, turtles and much more. Diving and snorkeling gear can be hired from the diving centre. In the afternoon we will drive to the natural zone of Homhil, which is home to many sorts of endemic plants like dragon's blood tree, frankincense tree and desert rose. Once in Homhil we will walk along a selection of trails, one one of which takes us to a viewpoint where there is a natural swimming pool with a view of the villages below on the plain and the Arabian Sea. Dinner and overnight at Homhil Campsite.
---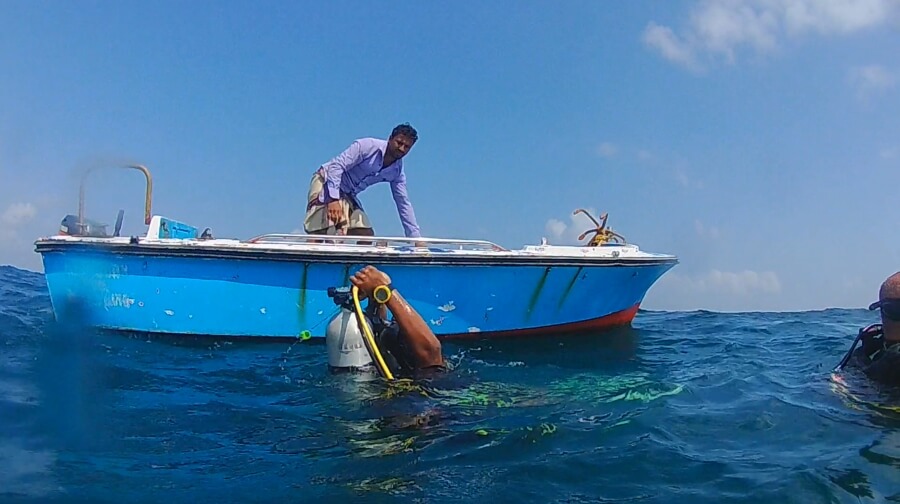 ---
After an early breakfast we will drive to Terbak Village where Hoq Cave is located. We will then hike up for 1.5 hours until we reach the entrance of the cave, before spending an hour inside. Hoq is the largest cave on the island, being over 3 km deep. It holds a wealth of Socotri history and is full of archaeological findings, such as paintings, pieces of pottery, and wooden tables with inscriptions in Aramaic language, dating back to 258 AD. The cave offers an overwhelming beauty and variety of crystal decorations, like stalagmites, stalactites and calcite floors. We then drive to Ras Erisel which is located at the eastern end of the island where the Arabian Sea and Indian Ocean meet. Afterwards we depart to the Arher area, which is a meeting point of freshwater from the mountain and saltwater from the sea. Arher is also home to another magnificent set of sand dunes. If you are feeling especially fit, you can climb the dunes for a view that is really worth the effort. Dinner and overnight at Arher Campsite.
---
---
Today we drive to the southern coast of the island, through the unique Defarhu Valley. We will see traditional villages, natural water pools at the bottom of the canyon and the unusual desert rose trees growing on the canyon walls. The vegetation here is lush green and the area is full of birds. After lunch we drive to Hayf and Zahek villages to witness the massive sand dunes which have been pushed up against the mountainside by the seasonal winds of Socotra. We then make our way to the very expansive beach of Omak in the Indian Ocean. After swimming, sunbathing and relaxing in the clear water of the Indian Ocean in Omak, we depart to Digub Cave, which overlooks a scattering of traditional villages below. There are many stalactites, stalagmites and pools of water in the cave that have seeped through the rock over time. Dinner and overnight at Omak Campsite.
---
---
Today we make our way to Dixam Plateau (700m above sea level) and Shebahon viewpoint. This area is home to many of the Socotri endemic plants, such as dragon's blood trees. The Shebahon viewpoint gives a fabulous vista overlooking Daerhu Canyon where we will see breathtaking scenery and unusual, beautiful rock formations. We then make our way down to the wadi in the canyon for lunch and to swim in the freshwater pools. The afternoon is spent exploring the canyon. Dinner and overnight at Wadi Dirhur Campsite.
---
---
Today we explore the western part of the island. Our first stop will be Qalansiya; a small traditional fishing town. From there we will hop on a boat and head to the remote beach of Shuaab. We are very likely to see spinner dolphins and other sea life during the boat ride. Once in Shuaab we can swim, relax and enjoy the pristine beach as well as exploring nearby mangroves. Afterwards we head back to Qalansiya in time to explore the Detwah Lagoon, which is a marine protected area renowned for its magical landscape. This area has some of the best views on the island. We end our day by making the long drive back to Hadibo where we will stay overnight in the hotel.
---
---
We catch our morning flight back to Cairo via the mainland, arriving around 17:00-18:00. Please note: as this flight is very unreliable with timings, we strongly advise you to plan at least one hotel night in Cairo before your onward flight home.
---
---
- Visa support documents
- All ground transport in 4x4s
- Accommodation and camping equipment
- Tours, entry fees, permits and English speaking guides
- Breakfast, lunch and dinner each day
- Bottled water and soft drinks
- Lupine tour leader
---
---
- Visa ($100, Lupine will arrange visa on arrival)
- Tips
- Return flights from Cairo (Approx. $1,280. Our local partners will arrange these. Payable in cash on arrival in Socotra)
---